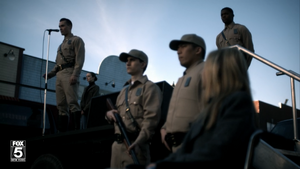 The First Generation is a faction that took over Wayward Pines, Idaho.
The First Generation, led by Jason Higgins, were envisioned by David Pilcher's beliefs, and plans to keep Wayward Pines contained, to preserve the human race, by starting a strong dictatorship. After the Abby incident, Jason and the First Generation have seized control of Wayward Pines and frozen most of the adults. When Ben wakes up in the hospital and walks through the town, he finds that Jason has become the sheriff—and corpses are strung up on lampposts bearing signs saying "DO NOT TRY TO LEAVE".
Unknown Status
Edit
Deceased Members
Edit
Ad blocker interference detected!
Wikia is a free-to-use site that makes money from advertising. We have a modified experience for viewers using ad blockers

Wikia is not accessible if you've made further modifications. Remove the custom ad blocker rule(s) and the page will load as expected.